COLORADO SPRINGS -
Saturday October 28th, 2017 is Prescription Drug Take Back Day. There are constant reminders all around us of how important it is to properly dispose of prescription medications you're no longer using for many reasons. First and foremost is the current opioid epidemic in our country tied to prescription painkillers, that President Trump just designated as a national health emergency.
Chris Martin is the pharmacy manager at UCHealth Memorial who says check your medicine cabinet for any medications you're not using. "Antibiotics or blood pressure medicines or anything you're not using anymore, you can throw away in household trash. Make sure you put them in a sealed container, and mix it up with something that's going to make it unusable like coffee grounds or kitty litter, and then you can put those in the house trash. It if it's a controlled substance you need to take it to an authorized collector you can find a list of those on the DEA's website (https://www.dea.gov/index.shtml) or you can wait for a take back day."
In Colorado Springs on Saturday October 28th, you can head to UCHealth Memorial North on Briargate, the police operations center on South Nevada, and the El Paso County Family Hazardous Water Facility on Akers, from 10 a.m. to 2 p.m. For other Southern Colorado locations near you, CLICK HERE and enter your zip code.
Also this Sunday night at 10 on KOAA News5, we'll have a special Your Healthy Family about a local cyclist, and the heroes who saved his life in July of this year. Dan Geery says, "I was flat lined, white as a ghost, no pulse, not breathing.".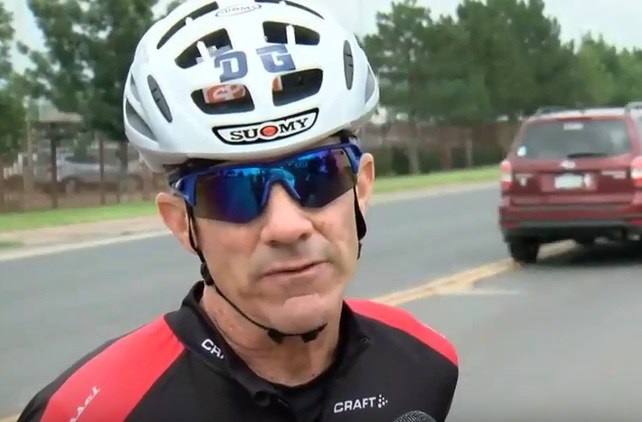 Lisa Kirkman, a Senior Assistant El Paso County Attorney was one person who was in the right place at the right time. "I was coming back from a meeting at the jail and I saw a very athletic bicyclist speeding down the road, I thought to myself he really knows what he's doing."
El Paso County Sheriff's Deputy Carlos Gutierrez, was also in the right place at the right time. "I wasn't going to go to CJC that morning, It wasn't part of my plan but I happen to divert when I was coming back from an event."
El Paso County Sheriff's Lieutenant J.D. Ross also played a role in Dan's life that day. "When I heard Carlos call out on the air, that there was a man down who was having trouble breathing, I could tell in his voice that this was it was not just the average sleeping person."
Dr. Russell Linsky, a cardiologist at the UCHealth Memorial Heart and Vascular Center was one of the doctors who also played a role in Dan's life. Dr. Linsky has treated many heart attack patients, but says Dan Geery's case is unique, "Actually I don't think i have ever had that happen before, it was such a unique thing that happened to him, and that's what really saved him."
See the full story this Sunday night on News5 at 10 after Football Night in America on NBC.